Portfolio
A Cosmopolitan Facelift
Waking up to a view of Lake Geneva and the snowy peaks of the Swiss alps. A turnkey project were a classic flamboyant style is combined with modern elements.
The owners fell in love with the house and its romantic Swiss construction style. Not to mention the fantastic view! It was clear from the beginning that the basic structure was fine, it just needed to correspond to personal taste." And that is where Stock stepped in. The entrance area is the first eye-catcher and sets the tone for the remaining areas of the home.
The walls are plastered with wallpapers with patterns that would suit an old theater or an Italian palace, while the lamps are modern and minimalist and provide subtle hallway lighting. The steps of the stairway have been covered with a stair carpet made of wool. The kitchen is the next eye-catcher, all wood with a dark blue stain.
Unique Details
The kitchen feels like it has always been there, thanks to custom work and unique details like the copper sink, the marble counter, the round door handles, and the colorful cushions on the seating around the dinner table. The dining room is named "Shanghai Room" as a tribute to the Chinese city where couple  first met.
China was also the inspiration for the curtains with red and pink patterning and for the red color of the walls.. Unlike the ground floor, which is marked by carefully composed eclecticism, the master bedroom exudes tranquility and harmony with, gray and blue colors. Crucial contrast is created with linens, silk, and cotton ensuring that the design doesn't become "boring." The hallway features custom shelving with subtle lighting on both sides. Not for books, but for bags and shoes."I'd rather not have to hide this kind of collection behind doors. I like being able to marvel at it every time I walk by."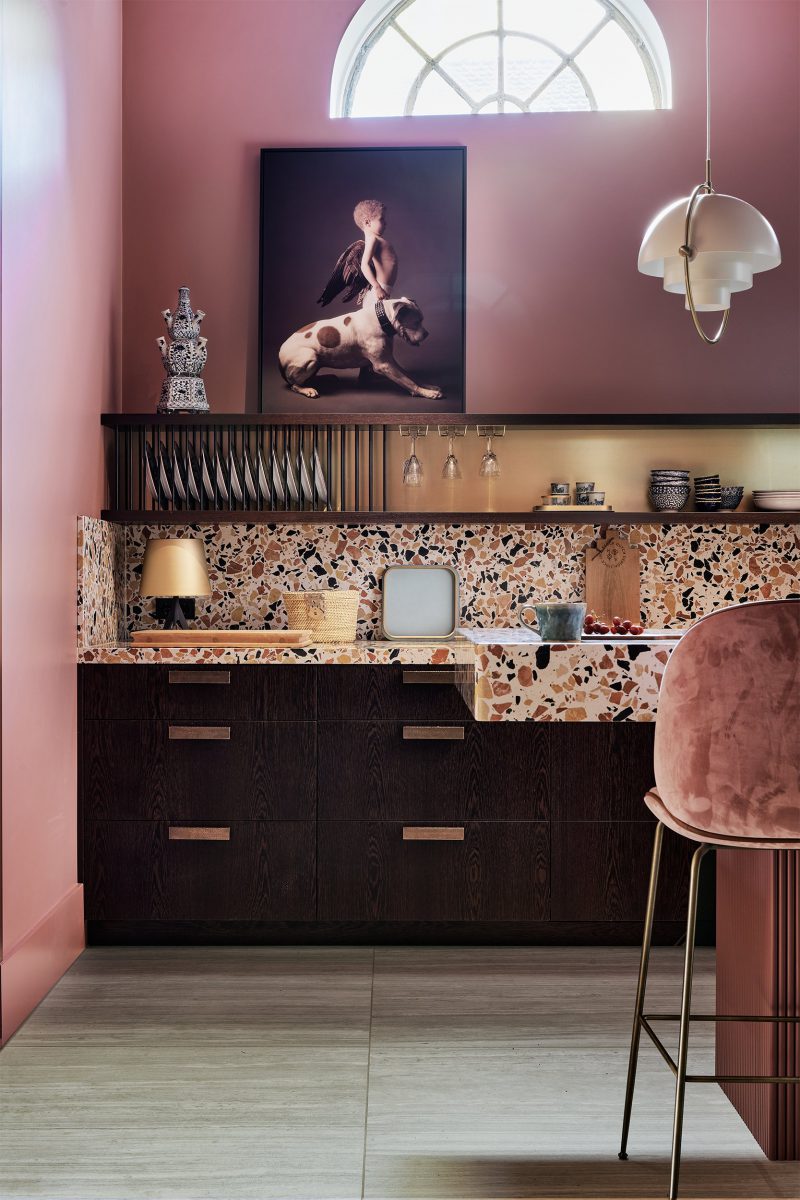 Excited to work with us?
Got a project on your mind? Collaboration? Let us know, and we'll soon get back to you.
Get in touch